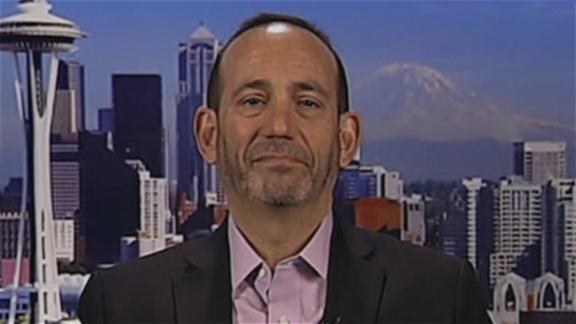 Author's Note: The video referenced in the first paragraph no longer exists. There is another post dedicated to this lost video,
here
.
Watch this video of Commissioner Don Garber telling Dana Jacobson of ESPN's First Take
all the standard cliché
answers as well as comporting himself as the leader of a league who will only take what he can get. Garber acts as if everything is going according to plan 15 seasons in while feigning the reality that other sports' failures i.e. Pro Football's possible strike or lockout, is not a good thing for U.S. Pro Soccer.
Garber is neither truthful nor realistic. About a minute into the interview, he says that everybody in sports wants to see everybody else succeed. He is punchless and gutless in his altruistic perspective of the utopian sports world he is living in. Major League Soccer must compete with other mainstream team sports for a broader fan base if it ever wants to make any real revenue.
He definitively says that MLS is
not
interested in marketing to new fans about 2 minutes in when Jacobson gives him a softball question about picking up new fans if there isn't a Pro Football upcoming season. With this answer Garber shows that he is leading a league that is intentionally ignoring U.S. sports fans. He never mentions sports fans once in the interview and shows all his cards when he explains that there are enough Soccer fans to make his league successful. Reaching Soccer fans not sports fans is the only marketing plan MLS is interested in.
All these ludicrous answers are happening, believe it or not, during Garber's one big interview to introduce his league's 2011 season, and he can't come up with a more lively take than 'Everything's great; Hope all U.S. sports leagues can do well; We don't need no stinkin' sports fans.' He is conservative in his approach to a 'major league' fault.
He uses examples too. He is declarative and actually says that his league does
not
need Dallas Cowboys fans to be FC Dallas fans or Seattle Seahawks to be Sounders fans. Unbelievable. Is this really happening for a sports league in America?
About 3 minutes-10 seconds into the interview, one of the most remarkable things that Garber said came to light. He asserts that Soccer in the U.S. is a niche sport. He makes this comment by saying Steve Nash, as part owner of the expansion Vancouver team, can help bring more visibility to U.S. pro Soccer. The comment may be accurate that Nash can lift the profile of the league a little because of his status with American sports fans, but to infer that he can do it because Soccer is a niche sport is way off the mark.
Soccer is the most played sport in this country and in almost every other country in the world. Just about everyone in the U.S. is familiar with Soccer, its rules and strategies. Lacrosse and Cricket are niche sports to U.S. sports fans who have either not played or are unfamiliar with their rules. For the Commissioner of the league to call Soccer a niche sport, regardless if it was to explain things in broader cultural terms or not (his words), further explains why he is unlikely to take his sport 'Major' anytime soon.
His use of the word 'niche' begets another discussion entirely and that is whether Soccer is mainstream or not. According to Garber's logic, Soccer is not a mainstream sport. The dictionary defines 'mainstream' as
belonging
to
or
characteristic
of
a
principal,
dominant,
or
widely
accepted
group,
movement,
style. Soccer seems to have the attributes of mainstream.
So, what he was really trying to say was that 'U.S. Pro Club Soccer is a niche sport.' This is debatable too. But, at least it's a little more descriptive. Garber should choose his words more carefully, be real rather than a retread and ask for sports fans to join up as Soccer fans in his next nationally televised interview.