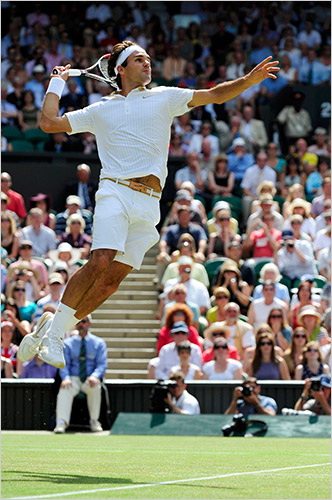 As the Federer reign ends, so does too some of the romantic side of tennis. Expect television ratings for tennis to come down over the next few years. Nadal will carry the sport for a while longer, but many of the story lines will turn stale and be a repeat from previous years.
Its hard to imagine the characters in tennis getting any better. The last great storyline to follow will be Nadal's quest to overtake Federer for most Grand Slams. But even that may feel overdone since it would follow so closely after Federer beating Sampras' record.
The Nadal-Federer rivalry was one of the great rivalries of modern sports history and it seems to be over for good as Nadal drubbed Federer last night at an ATP Masters Series event in Miami. For tennis, what's next? Are sports fans supposed to get all giddy over Djokovic, del Potro and Andy Murray.
Andy Roddick, the last great U.S. player and somebody else to root for, is playing now as if he is resigned to being just a good player, knowing he is not a serious challenger for any other 'Major' titles.
Also, the predictability of the big wave of great tennis players from China, who will dominate the game for years, feels like a foregone conclusion. For sports spectating in the U.S., tennis' best days are in its recent history. It would be difficult to imagine tennis ever topping the last 35 years, which has been at the height of television engagement, beginning with NBC's coverage of Breakfast at Wimbledon.
Sure there will be excellent matches for the future, but many great matches have already been televised for many years. It's hard to believe any one other match or one other point will outdo the tremendous recent history of tennis, including classic matches, long matches and with eccentric personalities from the late 1970's to the Nadal-Federer years.
With so many great champions facing off against each other leading up to Nadal-Federer, from Borg and McEnroe to Connors and Lendl to Wilander, Becker and Edberg through to Chang and Courier, and Sampras and Agassi, it is hard to think tennis can improve and be any more dramatic than what has already been accomplished.
Tennis is joining other U.S. spectator sports that are beginning to tire some after too much of the same. It could be a case of shifting demographics. Sports advertising dollars have always relied on Men ages 25-54 and their earning power to generate sales. This target demo has grown older and the younger generation demo may not be able to live up to the same tv ratings generated in tennis' recent glory years.
One sport is poised to jump on any drained, disinterested sports fans from whichever sport; baseball, hockey, basketball, football or tennis.
Soccer is on the cusp of breaking out big time in U.S. spectator sports, but even with so many new Soccer-specific stadiums and new franchises, there is still not the feeling that it is generating enough buzz on the most watched mainstream sports media outlets. Is Soccer doing what it needs to do to compete for the disenchanted sports fans of other sports?
MLS execs are not descriptive when it comes to how they should go about getting their sport to become more prominent with sports fans. Also, MLS execs do not address any issue on why things are not moving faster when it comes to owning market share in the U.S. sports spectator pantheon. The MLS mantra that 'it takes time to build' is an equivocation, to avoid deeper issues.
Of course things take time to build. But, if Soccer is such the great sport that it is, why hasn't it been more effective in the U.S. more quickly? What year can sports fans expect MLS to make the leap to the big stage?
Right now, it seems MLS games are still not getting the sports fan's attention.