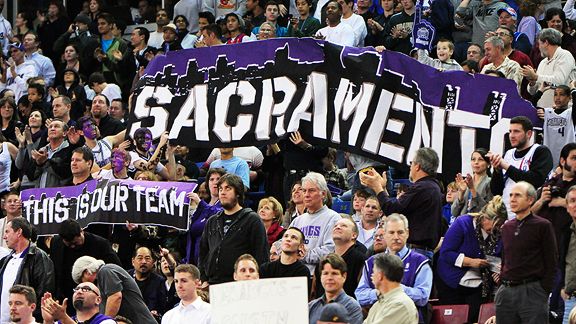 Today, it was learned the Sacramento Kings of the NBA will play on for at least one more season in Sacramento. Sacramento fans and its city organizers convinced ownership for one more chance at getting a new arena built. Ownership has felt a new arena will bring the profits needed to continue operations successfully. In this next year, more decisions will be made to determine whether the new arena can be built to accommodate all parties.
Sacramento is unique among pro sports cities as it tallies only one pro major team among the 5 most popular team sports; baseball, basketball, football, hockey and Soccer.
It ranks as the 24th largest metro area, according to the 2010 census, one step ahead of San Antonio at 25th, which also has only one pro team. (Both augmented in population substantially, Sacramento grew by 20% and San Antonio by 25 % since the 2000 census.)
MLS has only been first to put a pro team in a new city one time (Columbus). The argument is there for several, including; Austin, Providence, Hartford, Las Vegas, Birmingham, Albuquerque, Tulsa, Tuscon and Rochester. Some of the next best logic for expansion would be for cities where one pro team is already making a difference.
Portland, right ahead of Sacramento and San Antonio at 23rd among metro areas, is a prime example of a city that had only one allegiance, but now is toting 2 pro teams with one of the newest MLS franchises. For more than 35 years, it was home to only the NBA, like Sacramento, San Antonio, Memphis, Orlando and Oklahoma City, but Portland is quickly becoming the 'model' MLS franchise.
These NBA teams are putting their cities on the map and each of them has been known to show an overdose of passion when it comes to supporting their squad.
In business circles, some economic researchers have suggested that a city's growth can be attributed to the name recognition associated from becoming a pro team city.
A metro area or city may prosper further and get a population uptick with the right kind of pro team representing it. A franchise that has its roots sewn into the fabric of the community can give its area an unexpected boost in civic pride and that pride can develop further, eventually building into more opportunities for its residents. So, a franchise that starts off in what may be viewed as a smaller metro area could grow with the area and become a franchise of a bigger metro area without having to relocate. This seems to have already happened for some, including San Antonio and Portland.
MLS should consider the Subway method for franchising. Subway, home of those famous sub sandwiches, decided to open up a store next to as many McDonald's restaurants as possible. The results have been astonishing. Recently, Subway has become the largest franchiser, pulling ahead of McDonald's.
MLS doesn't compete with the NBA too much. The NBA's regular season ends in April and its playoffs end in June. It is not so much of a competitor as is MLB.
Cities with only an NBA team should be, at or close to, the top of the list for MLS as places to consider when expanding. Sacramento showed in this past year its willingness to fight for its place among elite cities. Its this kind of fortitude that MLS needs more of from its franchises.
MLS execs should pay close attention to what's happening in Sacramento and other cities like it. A metro area of significant size without any major team sports or one which only has a singular major team sport playing in it should be considered as good prospects for a future franchise.