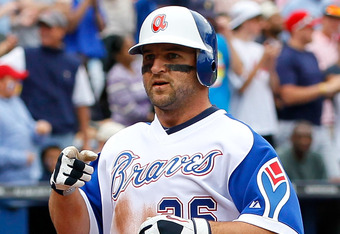 #26, 2nd Baseman for the Atlanta Braves, Dan Uggla
Dan Uggla, a journeyman second baseman for the Atlanta Braves, is in the midst of a quality hit streak. He reached 33 games on Saturday. The streak is allowing him to become a household name among sports fans.
The hit streak was made famous by Joe DiMaggio, who was able to hit safely in 56 games. Since Dimaggio set the record in 1941, the closest any player has come was Pete Rose, whose streak ended at 44 games in 1978. What makes this statistic so interesting among baseball fans and sports fans that it even has its
own Wikipedia page?
Some of the interest generated by the record is the sheer difficulty to break it. Most sports fans think it is one of the records least likely to ever fall. But, this is not really the gist of it. There are plenty of other records out there which are less likely to be broken than this one.
What interests the sports fan in this record is the daily grind to keep it up and the drama that builds with it as the amount of games increases. The chase for DiMaggio's record is now part of baseball's lore. It is attached to one of the most storied names, sits far enough away to make it almost seem impossible to reach, but close enough to think it's possible.
There is no way a guy like Dan Uggla will break this record. But, predicting when it will end is part of the fable. Baseball is riding this one out and reaping as much benefits as possible. If baseball had its druthers, it would ask that Uggla get to 50 before going hitless.
The other most notable of baseball streaks is Cal Ripken's ironman streak of consecutive games played. He was able to best another all-time great, Lou Gehrig.
In tackle football, the ironman streak was made noteworthy most recently because it was attached to Brett Favre's consecutive starts. As he retired and unretired, the record accompanied him. Football has a few excellent streaks to choose from, like touchdowns thrown in consecutive games or field goals made without a miss. Basketball does too, like triple-doubles in consecutive games or free throws made.
But, no other streak matches baseball's hit streak. The length of time involved, not too much (6 weeks), not too little (4 weeks), makes it special. Also, it's perfect for television because sportscasts can break and go to the game during the player's at-bat. An at-bat only lasts a minute or two, usually.
In Soccer, what makes for a special streak? Should MLS promote more record breaking and more streaks?
Maybe, one in which a player can score or assist in multiple consecutive games would be one to remember. Would how many consecutive games with a goal or assist be enough to get the sports fan's attention so that they tune in to see if the streak lives or dies?