They played the same position in the NFL, acting as the captains of the defense, counted on to read the offense and make the play. They were the ferocious ones, tackling from sideline to sideline. They were the middle linebackers.
Jonathan Vilma is suspended from the League for one year for his part in the New Orleans Saints Bounty scandal. His suspension came one day before Junior Seau's suicide, most likely from constant headaches that wouldn't leave him alone and drove him crazy with pain until he felt his only option was to take his own life.
Seau has now joined a growing list of ex-NFL players who have killed themselves because of concussions suffered from their playing days.
Seau's suicide overshadowed somewhat the news of Vilma's suspension. The airwaves were thick with talk over whether the suspension fit the crime and Vilma's role in the whole Bounty thing. Then, the news of Seau came about and the suspensions of the New Orleans players was put on the back-burner because a player of Seau's magnitude deserved tribute and the right context for his place in NFL history and what he meant as a person to so many people.
Seau is by far the biggest NFL star and the most modern one to have succumbed to this hideous way of suffering. Possibly, his life will make some of the biggest changes to the future of the NFL. But, discussing any changes would only be conjecture at this point because no one is able to say, including the commish, Roger Goodell, what the future holds in reducing the frequency of combative head injuries.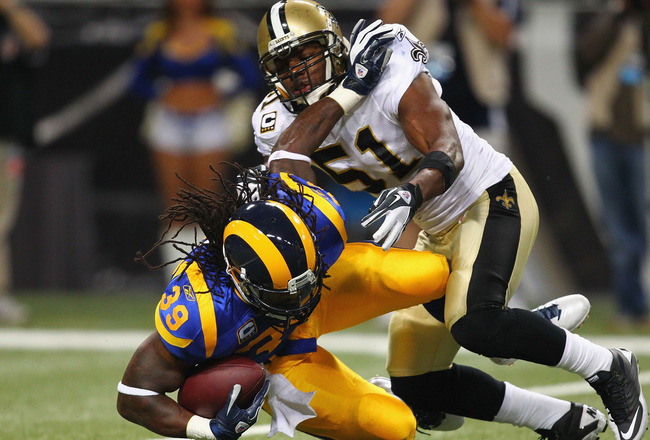 Now, in the light of Seau's death and with what they are learning regarding concussions, Vilma should ask himself, is it really worth it to try and come back to the NFL?
Maybe this suspension is Vilma's lifeline.
Is a life ending at 43 or 44 years old good enough? This age seems to be a threshold of sorts in common from what other players, including former all-pro, Andre Waters, finally put up with, before ending things.
They say suicide is the most selfish of acts because of the effects it has on others, but, for these ex-ball players, it is beginning to seem less selfish and more of a necessity to get away from the demons of living all-day with head trauma.
Vilma can choose to make his comeback, but family members may try to persuade him not to. They might suggest that it is best to let things go as they are and hold on for a brighter future. He has his Super Bowl ring and has played productively for 8 seasons. There's not that much left to prove, but there is a heck of a lot left to lose.