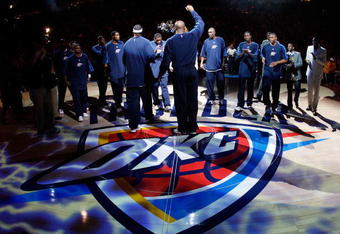 Originally posted May 15th, 2012
Over the last 13 NBA seasons, there have been only three teams from the Western Conference to play for an NBA championship.
The Dallas Mavericks have played twice, both times against the Miami Heat, winning one time and losing one time.
The Los Angeles Lakers have played seven NBA Finals, all under Kobe's watch, going 3-1 with Shaq and 2-1 with Gasol and Bynum. All together, it added up to playing against six different teams. Twice they played the Boston Celtics, winning once, losing once.
The San Antonio Spurs have been four times and won each time. Their wins were against four different teams in four different ways: once in four games against Lebron with the Cleveland Cavs, once in five against the Knicks, once in six against New Jersey and once in seven against Detroit.
The Oklahoma City Thunder may get the chance to eliminate each of these three powerhouses in their 2012 playoff run towards the NBA Finals.
They have already extinguished the Mavs and they are presently working on putting an end to the season for the Lakers.
If San Antonio takes care of its business with the LA Clippers, they could play the Thunder in the West Finals. The match-up might mean the end of the line for the Spurs.
For the NBA, it would be an 'Amazing' feat.
In fact, for any of the major team pro sports, this caliber of pressure-filled playoff winning would be impressive.
If OKC can meet Miami in the NBA Finals after beating the Mavs, Lakers and Spurs and then can beat the Heat to win it all, their championship would deserve to rank as high in quality as any team from any sport ever accomplished.
An OKC win would signal a new regime, new chapter and new 'guard' for the NBA, something that hasn't been seen in quite some time. Their rise to the top can really be characterized as rare for all team sports because the entire team offers a completely new brand.
It's not just about a new city being marketed that makes this story compelling. It's the potential for the combination of style of play, the freshness of the players and the level of opposing teams being taken out on the journey to a championship that is most riveting.