Golden State executives should take a cue from the Kansas City-Omaha Kings. What about having the best of both worlds?
Cut the schedule in half and play in both cities, Oakland and San Francisco (20 and 21 home games each-total of 41).
The public would probably be okay with this idea. Plus, it puts the night and the emotion of the game at a higher level. There would be less games at each arena, so it feels more special.
The areas around each arena would get built up and both would benefit. The fan base gets extended, as well.
Back in the day, from 1972-1978, a franchise played half its schedule in Kansas City and half in Omaha. These cities are not all that close to each other on the map. It made a lot less sense than the duo of Oakland and San Fran, which are very close in proximity.
And, the name engulfs them all. One of the only pro sports names to be a moniker. It fits that they should play Golden State rules.
If this sharing arenas can't work, then the NBA must give Oakland serious consideration for a future franchise.
From all indications, the fans stuck with this team through thick and thicker. Even though the team played few winning seasons over the last few decades, the crowd remained optimistic and would be raucous at the first sniff of seeing playoff potential.
Besides the 1987 HOFamer Rick Barry-led '75 team that won the championship, the Oakland Golden State Warriors will be most remembered for Run TMC with the dynamic passing, scoring and energy of Tim Hardaway, Mitch Richmond and Chris Mullin-2011 HOFamer.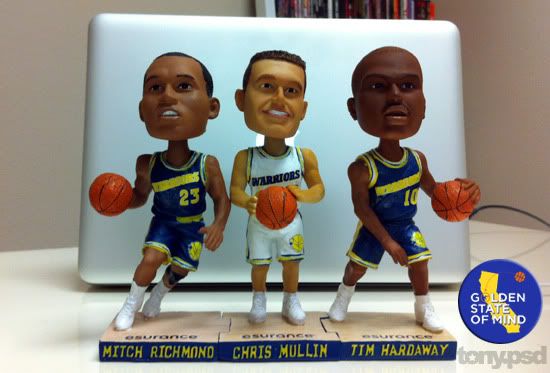 There were some other playoff runs over the years, including as a #8 seed with Stephen Jackson and Baron Davis leading the charge to a decisive series victory over the #1 seeded Dallas Mavericks.
The Good Ole Days and Long Live the Memories: If only they could win a championship before the 2017 move to Frisco and go out in style.
Originally Published May of 2012