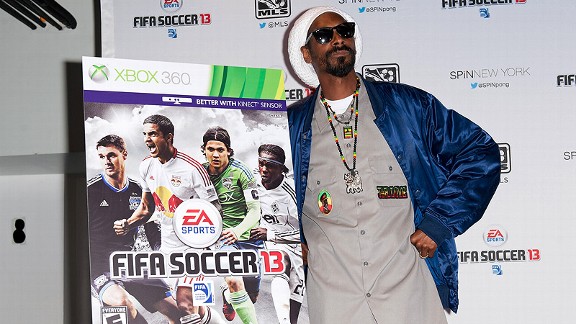 Snoop Dogg is a game-changer type of personality that Soccer needs in America.
Inner-city young people will drive Soccer business in the U.S. to new heights, if conquered.
Snoop is all over the sports market this week promoting the FIFA Soccer 13. He is working it hard for the makers of the video game, EA Sports.
He is obviously being paid a pretty penny for the promotion, but he is genuine in communicating his love for Soccer and the video game. His enthusiasm really comes out in a positive way.
His hashtag on Twitter, #SnoopsFIFA13, was trending big all day on Tuesday. He was in and out of pretty much every ESPN television and radio studio.
Studio hosts wanted to know Snoop's opinions on the play from the Seattle-Green Bay Monday Night Football game and what he thinks of the replacement refs because Snoop Dog has coached youth leagues for many years and is known to be a deeply-rooted American football fan. One of the past youth players he coached from years before now plays in the NFL.
After he was done answering questions related to American football and the NFL, he successfully declared his passion for Soccer and told stories of how he became a Soccer fan.
He found his love for the sport several years ago when he was traveling overseas for concerts he was giving. He said the first player to get his attention was Ronaldo.
He relayed stories of watching Brazilian Ronaldo and how it got him really into the sport. He says in the beginning he thought Soccer was boring, but he admitted that he didn't understand it. Now, he fully supports the 'beautiful game.'
MLS should chase Snoop down and get him to promote their league. Definitely, a section of the U.S. population needed to push the sport mainstream is inner-city young people and Snoop Dog brings that audience and much more.
Snoop Dogg also proves that playing the video game does bring new fans to the sport. His story of coming to respect and love Soccer is partly based on the video game.
To read more on these likely effects, click here
EA FIFA Video Game Attracts Inner-City Youth; Accelerates Soccer's March Towards Mainstream
.
To hear any of the radio interviews, go to
ESPN.com podcasts
. Snoop Dogg was heard on Colin Cowherd, Mike and Mike and others.