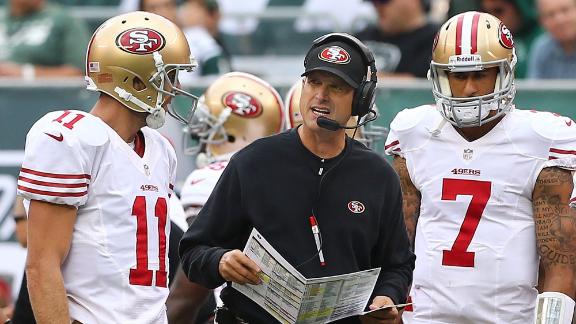 This week's NFL Division round playoff game between the San Francisco 49ers and Green Bay Packers is the true test on whether Jim Harbaugh's decision to change quarterbacks, to go permanently with his back-up, Collin Kaepernick, was the right one or not.
Alex Smith, the original first string quarterback of the Niners, already proved last season he can guide his team past the Division round of the playoffs. Smith lost with his team in the Conference championship in overtime versus the New York Giants after securing a win against the New Orleans Saints.
This won't be any kind of walk in Candlestick Park for Kaepernick and his offense. The Packers on defense are at their healthiest highpoint of all year. It will be a knock it out, drag out type of game.
The question is whether the pressure will get to Kaepernick and he will make that one fatal mistake quarterbacks are known to make when the heat is turned up and there's everything to lose. He hasn't been making key errors so far. He has just 3 picks (interceptions) with 10 touchdowns thrown on the season. But, undoubtedly, this game on Sunday is bigger than any other game in his career.
Where does Alex Smith go from here? What if Kaepernick can't handle the pressure?
Should Harbaugh have kept things the way they were? What if Smith had come back after the concussion and Kaepernick continued as the hybrid Wildcat, Tebow type of quarterback with the element of surprise playing on an occasional down?
Possibly, with Kapernick under wraps of sorts, his value wouldn't have gone through the roof the way it has now with him as the starter and maybe the Niners could have kept both quarterbacks.
It could be all this conjecture ends up as worthless and Kaepernick shines while the Niners overcome the Packers to advance.
But, it would seem this is the one team with the bye that gets beat. Almost every season since byes were given out, at least one of the bye teams loses.
Prediction: Packers 21, Niners 14
Other Division round predictions:
Atlanta 31, Seattle 17
Denver 27, Baltimore 17
New England 28, Houston 20