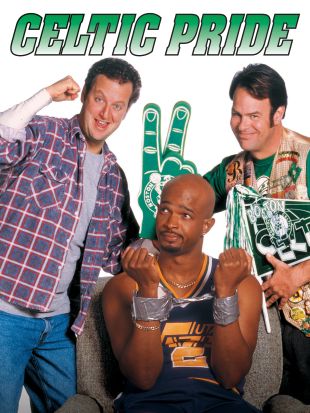 Can you believe its been 17 years since the movie, 'Celtic Pride', was released in movie theaters. No, you probably weren't thinking about it.
The movie, starring Damon Wayans, Dan Aykroyd and Daniel Stern did not get the best of movie reviews. Nonetheless, as far as sports comedies go, it was pretty good. Most of it, dark comedy, though.
Certainly, two colors stand out from the movie, purple and green. Never can I remember two teams being so often portrayed in a movie. I know 'Major League' was all about the Cleveland Indians and I remember some Whoopi Goldberg movie all about the New York Knicks, but no movie stands out to me that highlighted two teams throughout its plot line, other than 'Celtic Pride.'
How did the producers end up deciding on Utah as the other team, anyways? The Boston angle was understandable. Boston has a reputation for over the top sports fans.
Spoiler alert
: At the end of the movie, the Utah Jazz win game seven of the NBA Finals versus the Boston Celtics, upsetting the home team Boston Garden fans.
Last night, the Jazz fell in Boston, 97-87. The Jazz were playing the second of back to backs last night, so, it was going to be tough to win on the road for the young team, even though the Celtics have plenty of youth on their team.
The Celtics got their first win of the season (in front of their first non-sellout crowd in 290 games) and first NBA win for coach Brad Stevens, former college coach of Butler and consecutive NCAA Finals in 2010-2011. The Jazz are still looking for their first win of the season.
Jeff Green of the Celtics is improving with his all-around game and will have a chance to be an all-star this season. For the Jazz, Gordon Hayward, Butler's and Stevens' best ready-made pro product, continues his upwards trajectory. Nevertheless, it will be a long season for both teams.
So, why give the Boston Celtics and Utah Jazz any significant mentions, at all? After all, it is pretty clear these two teams are going suck really bad this year. Both will be in the running for the number one pick on next year's NBA draft.
Well, it's because both teams are successful NBA franchises and together they practically lost an all-star team from last season: Kevin Garnett, Paul Pierce, Jason Terry, Al Jefferson and Paul Milsapp.
So, without further ado, in tribute to the two great franchises and since they'll probably not be mentioned for a while, it is time to look at some of the best moments of the Jazz vs. Celtics, circa 1996.