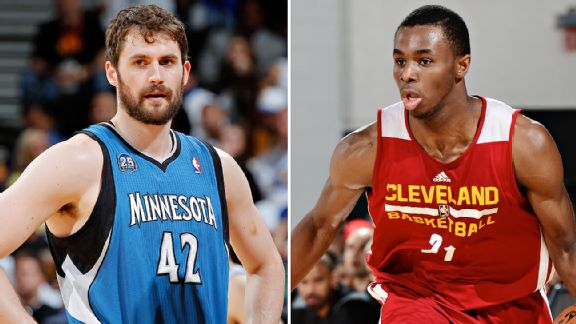 Make no mistake about it; There's no grey matter.
Whatever the pundits are saying, they only seem to be talking around the issue. The proposed trade involving Andrew Wiggins for Kevin Love has made for interesting opinions. Mostly, there is just a side to choose for fans of the NBA.
Fans can side with keeping rookie Andrew Wiggins and seeing whether he will truly blossom into his role alongside LeBron as he learns the NBA ropes to superstardom or determine the roadtrip is better served with Kevin Love, a three-time proven All-Star-who is both a leading league scorer and rebounder.
For many, the proposed trade is a toss-up. There are many factors to consider and it is impossible to predict which scenario of the two will turn out to be the better one.
On one hand, Love has many winning attributes that would compliment LeBron's game. Love has a soft touch from the outside. He has drive, determination and will in his game as a player who fights tooth and nail for what he achieves. He's unselfish and laid back as a persona on and off the floor.
Wiggins, though, brings athleticism to the Nth degree with flash and unbelievable potential. He could end up being the best player in the League five years from now. His personality is reserved and not uptight (like a Russell Westbrook). He's willing to learn and do the hard work.
It's kind of like Larry Bird for Doctor J.
And, I mean this in more ways than basketball attributes. There are similarities from Love's game to Bird's game and there are similarities from Doctor J's game to how Wiggins plays.
But, then, there's also the black/white issue.
Why would any team trade the athletic prowess and potential of a black up and coming superstar for a white pure-shooting, hard-working all-star player?
Let's tell the truth on the matter. One is slow while the other glides through the air. One is more prone to injury (white guys tend to get hurt) while the other has handles and slams with artistic authority.
C'mon, while Love will always be better from the free-throw line, he hasn't proved he can win when it counts. He's never been to the playoffs. He's just one more overrated player in a League of overpaid for overrated players. His numbers are inflated playing a career for a below .500 team.
There is only one answer to this potential trade-off: Keep Wiggins in Cleveland and keep him alongside LeBron. We might see some really special fireworks later on that may include multiple hardwares. It's a potential partnership that's got greatness written all over it.