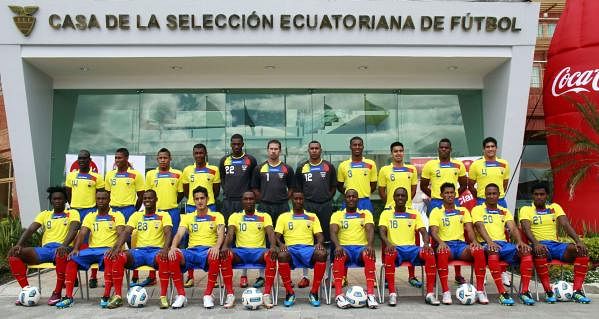 2014 WC Squad
Ecuador has unassumingly made its march up the ladder of the world soccer rankings and currently sits at number 13. After making its first World Cup appearance in 2002, Ecuador has tried to make it a habit of playing in World Cups. They have appeared in three of the last four, including one breakthrough out of group play into the knockout rounds (It just so happened that England bested Ecuador, 1-0, when
David Beckham decided to bend one for the ages
).
The two South American qualifiers this week find Ecuador at home versus #43 ranked Paraguay and away versus 8th ranked Columbia. The biggest news of all for Ecuador is that they sit atop the
qualifying standings,
undefeated with no ties-all wins. So far, Ecuador has raised eyebrows around the world by going four for four in trying to qualify for the 2018 World Cup in Russia.
As my wife is from Ecuador and I lived there for two years, I tend to follow the national team. I still remember
one of my favorite Ecuadorian soccer players of all time, Otilino Tenorio (Spiderman), who I wrote about several years back.
What I've noticed and appreciated so much about Ecuador's National Team has been its humility blended with talent. It's no secret that most of the team have been black players (Afro-Ecuadorians) since the World Cup run started in the early 2000's. These black players, to a man, have played soccer on a world stage with a cultural weight on their shoulders.
The Afro-Ecuadorian population is approximately 10% of Ecuador's total population. Unfortunately, racism and/or stereotypes have forced a thick cloud of discrimination to hang over society. Blacks are not treated equally. For example, the best jobs offered to blacks are of a secretarial nature for women or security oriented for men. And, these jobs have only recently opened up to them, starting in the early 2000's. There aren't separate bathrooms or water fountains and there haven't been any lynchings in the history of Ecuador, but the evolution of society when it comes to race has been slow.
The players on these national teams of Ecuador since its first World Cup have displayed incredible sportsmanship on the field and have been role models off of it. They know it is their responsibility to be a driving force of good will, so that the more than a million other Afro-Ecuadorians can be proud of the image that the team portrays. Their influence effects how Afro-Ecuadorians in society are treated in general and can be a determining factor for how fast more doors can open for them.
When Ecuador plays this week, there will be joy, but no showboating. And, they don't fake injuries, either. Two more wins and this story could get even bigger. It is already a bit surreal. It's rare for any South American team to win four qualifiers in a row, but to do it out of the gate, makes it an even greater feat.