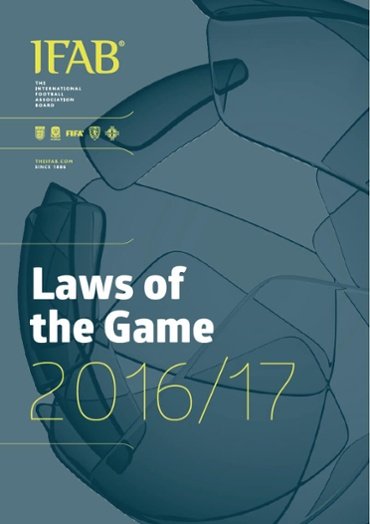 FIFA has long been considered a non-transparent entity and was confirmed as a criminal entity last year when all of the indictments, guilty pleas and resignations took place.
Interestingly, not too long after FIFA's re-start from ex-president Sepp Blatter's reign of incompetence to the new and improved president Gianni Infantino's version for running the world's sport, there is more clarity and interpretation for the rules of the game.
The new governance of FIFA has decided that part of the overhaul for its image and for the good of the game is to give emphasis to its division that focuses on the official 'Laws of the Game.' The IFAB (International Football Association Board) now
has its own website
,
facebook page
and
twitter handle @THEIFAB.
And, of course, from my perspective, as the most prominent Americanizing soccer proponent in the U.S., this renewed interest on the rules of the game from FIFA is long overdue. It proves just how far behind the old regimes under Blatter and his predecessors were. They hid their ole boys club behind as much status quo as they could find and this included keeping the game stuck in neutral to keep the masses content while being hoodwinked.
Throughout my writings on this website,
I have tried to show the link of
a corrupt FIFA and how little the rules have progressed over time.
For me, its ironic that the first major point of responsibility from this new FIFA governance under the auspices of IFAB was to update all of the 'Laws', which was completed by early March of 2016. The IFAB website confirmed FIFA's perspective with an article of the title '
New revision of the Law Book to reduce controversy and confusion.'
The other major point of progress from FIFA through the IFAB is to finally establish video replay ('instant replay' for us Americans) referee assistance (officially described as VARs-Video Assistance Referees). From the website, IFAB has announced
the first leagues to implement the replay system
, including our own, MLS. There had been rumblings from the Blatter administration that replay could become part of the game, but there was never follow through except for goal line technology. VARs will be assisting with more than just goal line reviews. Live experiments are not scheduled to begin until 2017, but these replays are the future and will become a reality in the game very soon. The VARs will be using replays to assess match-changing incidents within a game.
This is all quick movement and welcomed movement from the arm of FIFA responsible for getting the game updated and modernized for fans. I'm hopeful that the
two IFAB panels
will continue to monitor how the rules can be modified in subtle ways going forward to give fans the very best that soccer has to offer.


Read now...

Readers: I will be giving IFAB updates from time to time on my Twitter account.