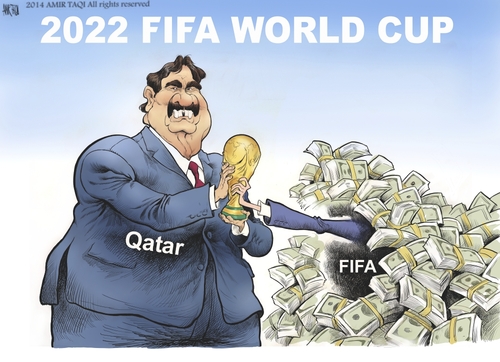 It's a queasy feeling to think about the 2022 World Cup host government supporting ISIS. However, this is a reality. There are multiple Arab countries claiming Qatar is plotting terrorism, funding it, and harboring terrorists.
Arab Gulf countries are now claiming foe status to Qatar.
This World Cup should never have been scheduled for Qatar in the first place. Possibly, it is the worst, most controversial, illegal sports decision ever made in the history of sports. Ultimately, it was the
decision that brought down FIFA and Sepp Blatter.
I have said for many years now, that the World Cup should not be played in Qatar. My reasons were the same as many other rational human beings. A place like Qatar does not deserve the world's stage, when the environment there openly discriminates against women and gays. Women and gays don't have safe haven and can not improve their status because of ancient customs and modern laws. And, the slavery accusations and clear abuse of the workforce that has gone on there over the years in building the stadiums is just completely and utterly inhumane.
All of the impropriety was started with huge sums of bribes. And, the
traditional dates from summer have been moved to winter
due to Qatari heat.
But, the terrorism charges take the cake. It is plain to see that a complete disaster has been made over the world's biggest sporting event. It is time to move on. It is time for the USSF to step up and announce that it won't participate in qualifiers for the 2022 World Cup. Let's then see the ramifications, because I believe, other countries will pull out, too.
The U.S. must take charge once again to help fix FIFA
for the betterment of the world's game. As the game transitions to transparency from a regime of fraud under Sepp Blatter, refusing to participate in the qualifiers for the 2022 Qatar World Cup is the right move. By not participating, the U.S. can send a message that puts the final nail in the coffin to the old FIFA.
The whole Qatar thing is so ridiculous, from the beginning until now, that it just needs to end. The idea and spectacle of playing there should go away.
Like I wrote, more than seven years ago
, it would just be easier to reallocate the 2022 World Cup to the U.S., which took second place during the voting process. If reasonable minds can't agree, and this travesty goes on, then, I say,
have a competing World Cup here
in the summer months of 2022.